Classic Chevrolet Supports our local Owasso community

Classic Chevrolet supports Owasso Public Schools with their Food fore Kids Backpack Program.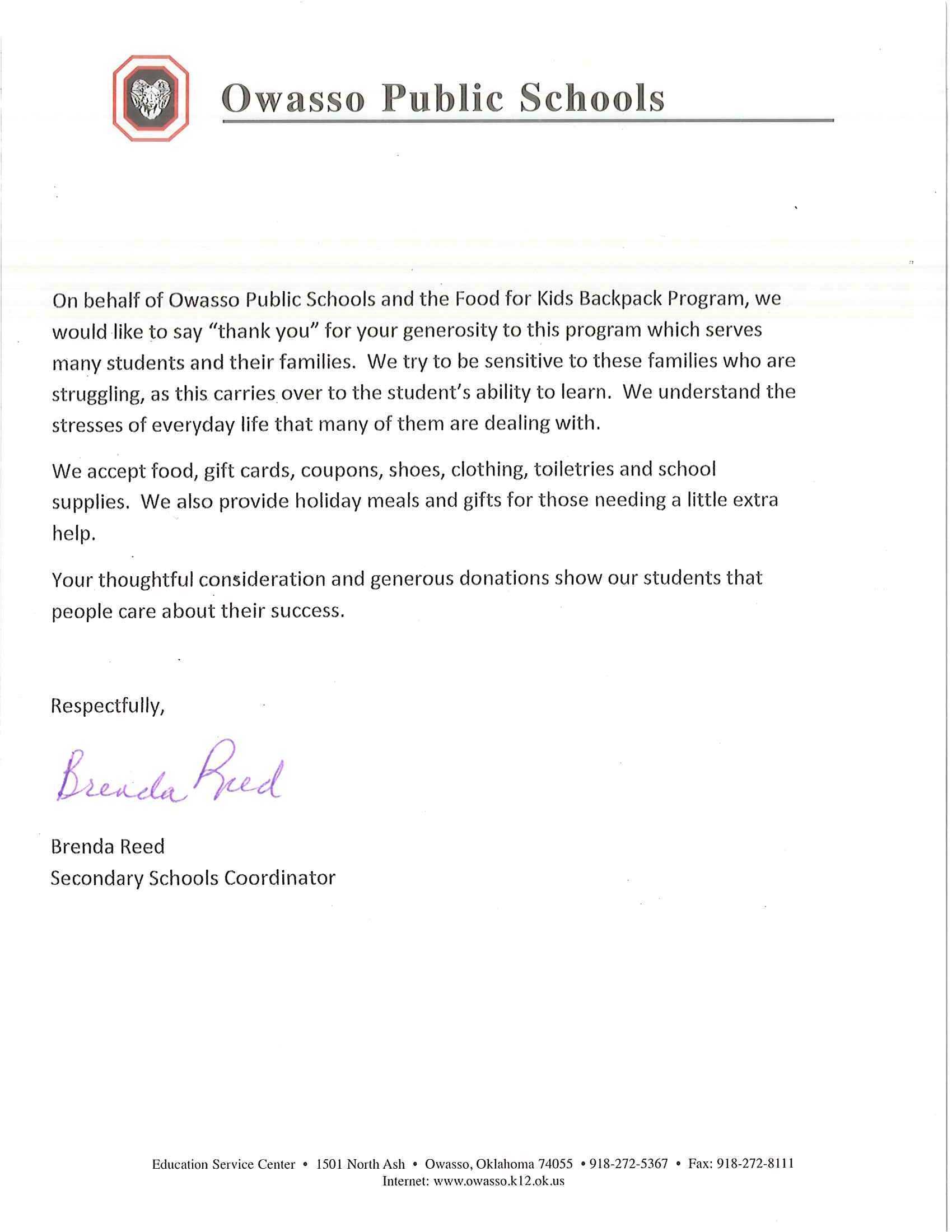 Classic Chevrolet helps Owasso Community Resources reach their goal for the food drive.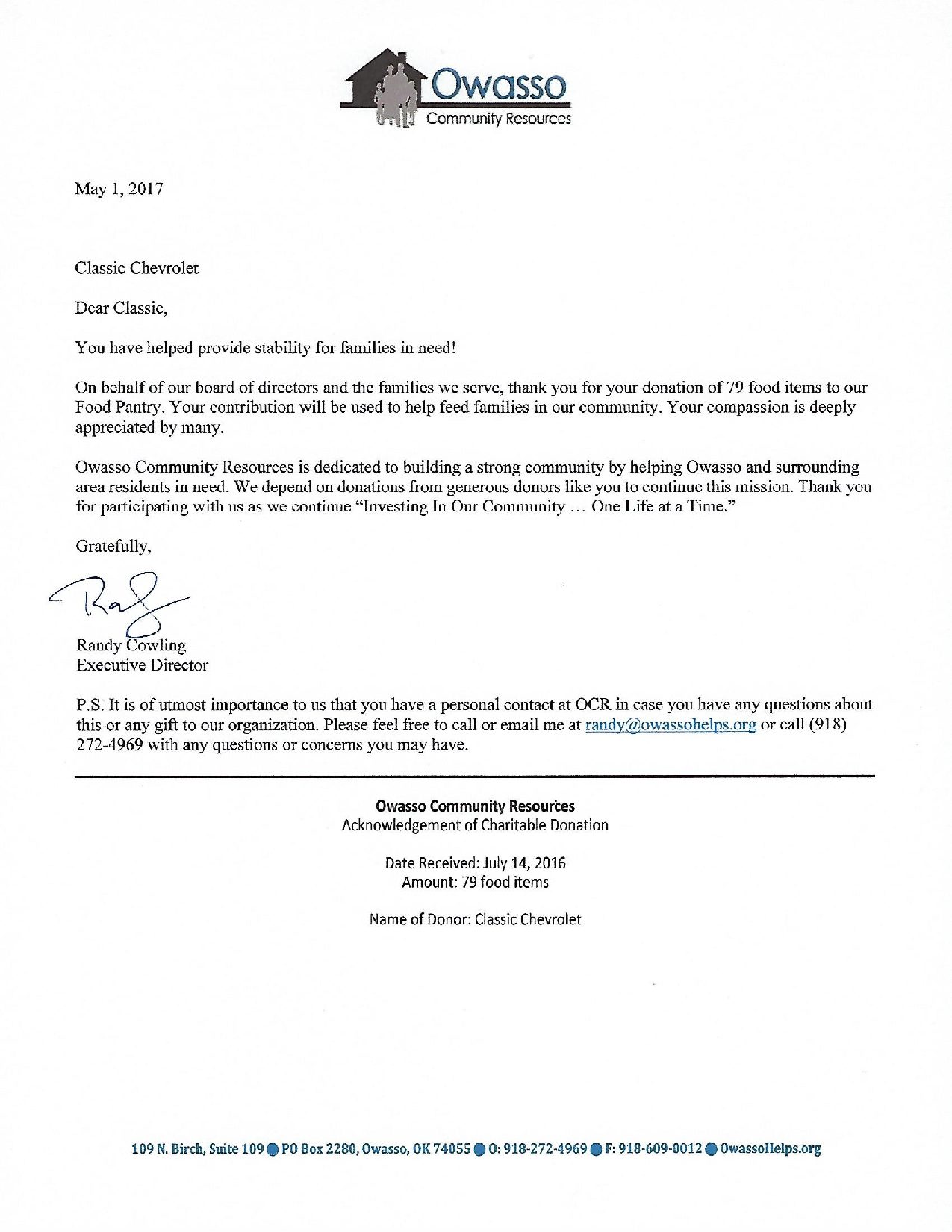 Classic Chevrolet Goes to Bat for Oklahoma Outkast 10U AAA
Classic Chevrolet to provide Oklahoma Outkast 10U AAA with new equipment, monetary contribution and instructional clinics
Owasso, April 12, 2017 – Classic Chevrolet is partnering with the Oklahoma Outkast 10U AAA in Owasso. Classic Chevrolet has joined forces with the national Chevrolet Youth Baseball program to provide new equipment, invitations to FREE instructional clinics, and an opportunity for community members to earn donations for their league via a Test Drive fundraiser.
"Playing the game of baseball helps kids develop skills like leadership, cooperation and sportsmanship while bringing families and communities together to show their support. Classic Chevrolet and Chevrolet Youth Baseball are proud to participate in a sport that brings so many smiles to kids and families in Owasso," said Colt Morgan, Sales Consultant for Classic Chevrolet. "Chevrolet believes that in play, there are possibilities and supports the spirit of teamwork that baseball instills in its players."
2017 marks Chevrolet's Youth Baseball program's 12th year, and since its introduction has helped aid local teams, benefiting more than 6.7 million young people in communities where Chevrolet's customers live, work and play. In 2016, more than 1,500 Chevrolet dealers participated across the country.

Classic Chevrolet will present an equipment kit that includes useful items such as bags, scorebooks, industrial-strength batting tees, ball buckets and Chevrolet Youth Baseball T-shirts. The sponsorship also includes youth clinics featuring current and former MLB/MiLB players and coaches, and instructors from Ripken Baseball.
In addition, Classic Chevrolet will present a check representing a one-time monetary contribution to Oklahoma Outkast 10U AAA. Sponsored leagues across the country will have the chance to earn additional funds as community members take test drives at their partnering dealership to help support the league.
In addition to its commitment to youth baseball, Chevrolet also is the Official Vehicle of Major League Baseball™.
Chevrolet vehicles are designed and built for families, safety and fun, so we encourage young people and their parents to make a Chevrolet the official vehicle of their household," said Classic Chevrolet.
For more information about Chevrolet Youth Baseball, please visit www.youthsportswired.com.
About Classic Chevrolet
Classic Chevrolet has been in Owasso and locally owned for more than 25 years. We are proud to say that every one of our customers is part of the Classic family. Our priority is to provide excellent customer service in both sales and service as well as supporting our local communities in any way we can.
About Chevrolet
Founded in 1911 in Detroit, Chevrolet is now one of the world's largest car brands, doing business in more than 115 countries and selling more than 4.0 million cars and trucks a year. Chevrolet provides customers with fuel-efficient vehicles that feature engaging performance, design that makes the heartbeat, passive and active safety features and easy-to-use technology, all at a value. More information on Chevrolet models can be found at www.chevrolet.com.
Media Information:
Erin Morgan
erin@classicchevrolet.net
918-272-1101
This just in from YMCA : Thank you Classic Chevrolet for sponsoring the Bartlesville Family YMCA 2nd Grade Basketball team!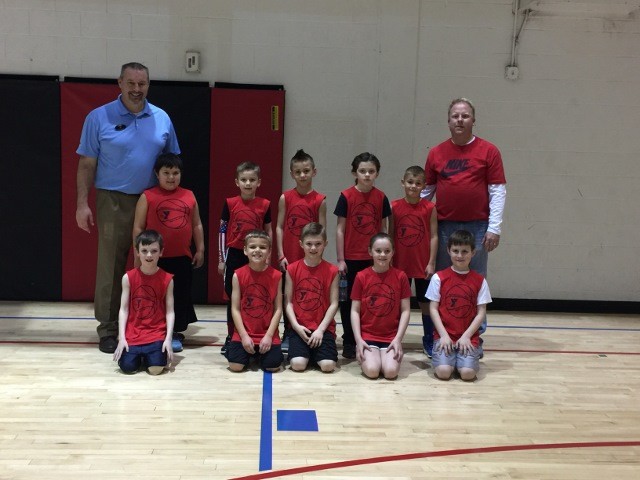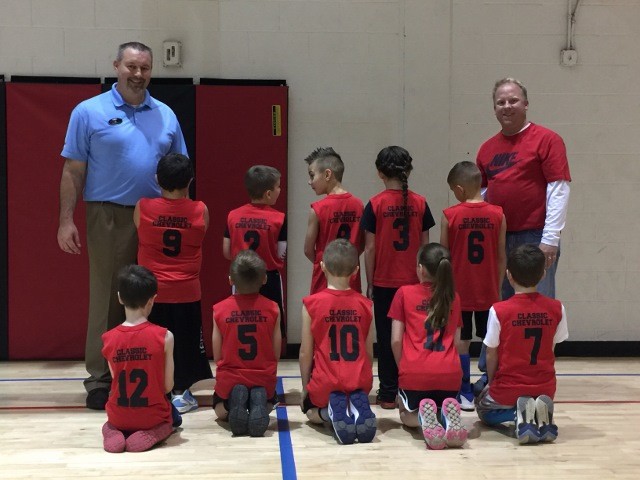 Mr. Jessie Connell from Owasso just won $1000 with our supersale promotion!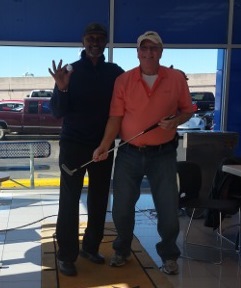 Classic Chevrolet receives 2016 Owasso Chamber Appreciation Award for all of their support to the community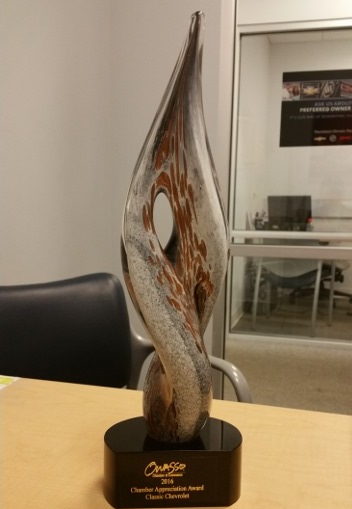 Classic Chevrolet:
I would like to thank Classic Chevrolet for their willingness to be the corporate sponsor of the fourth annual Nowata Invitational Basketball Tournament. The money you donated all owed us to buy a t-shirt for every participant in the event. We strive to have the best run tournament in the state and you generosity allowed us to take steps in that direction. The schools who competed this year were, Nowata, Oklahoma Union, Sperry, Manford, Chelsea, Owasso Junior Varsity and Lincoln Christian.
Bron Williams
Principal, Nowata High School
December, Classic Chevrolet was a proud partner with Owasso's Cub Scouts Den 3 pack 897 in support of our community's Toys for Tots Drive!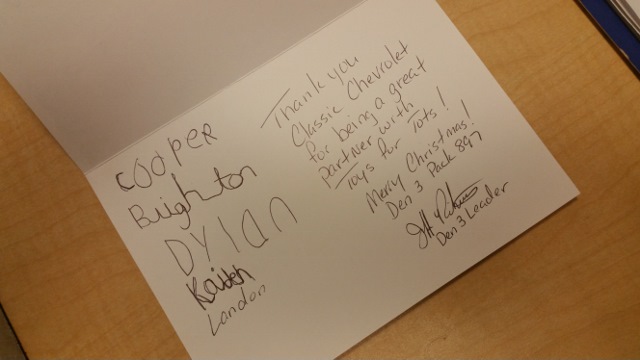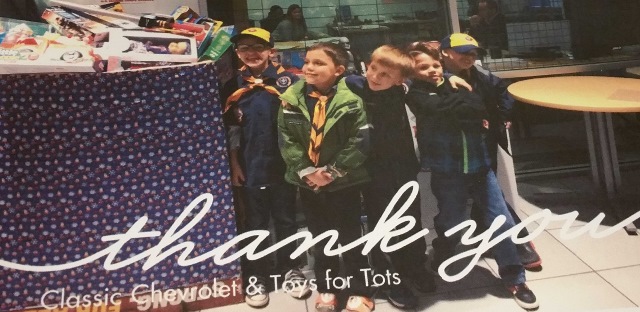 In Oklahoma, community is family, and at Classic Chevrolet, family is the heart of our business. That's why sponsoring community events and organizations throughout the year is so important to us. We make efforts to help our surrounding communities any way possible and 2016 was no exception. Classic Chevrolet sponsored a wide range of events, teams and organizations. We helped fund the Wall That Heals project when it was here in Owasso and also donated over 100 cases of water to the volunteers. We sponsored the Owasso Champions Youth Baseball league as well as the Collinsville Youth Soccer League by donating equipment and hosting an Open Season Night. We provided dinner, prizes and giveaways to the 300+ league members. Classic Chevrolet also had a 3 month long test drive promotion at the dealership to gather opportunities to raise more funds for both leagues. In August, Classic Chevrolet participated in the 6th Annual Owasso FFA Car and Bike Show. We donated prizes for that show as well as served as judges for the Corvette show that day. In October, Classic was also at the Owasso Harvest Festival and VFW Car show where we helped judge that contest as well and give away prizes in support. In addition, Classic provided the pace car for the Breast Cancer awareness race at Mohawk Park in support for Breast Cancer Awareness month in October. November and December we supported the Owasso Toys for Tots drive and participated in holding special promotions to support our community's veterans for both the service and sales departments. We also supported the Miss Oklahoma Pageant Organization.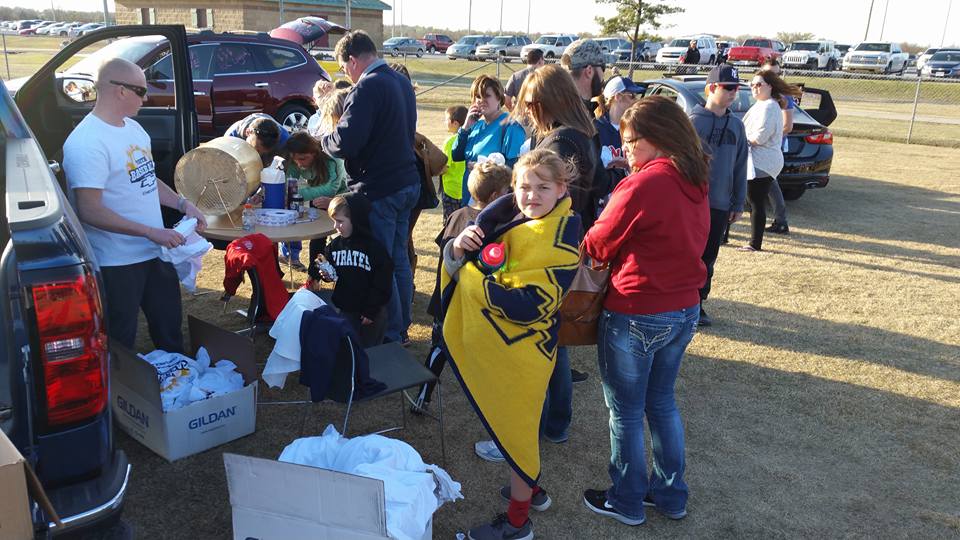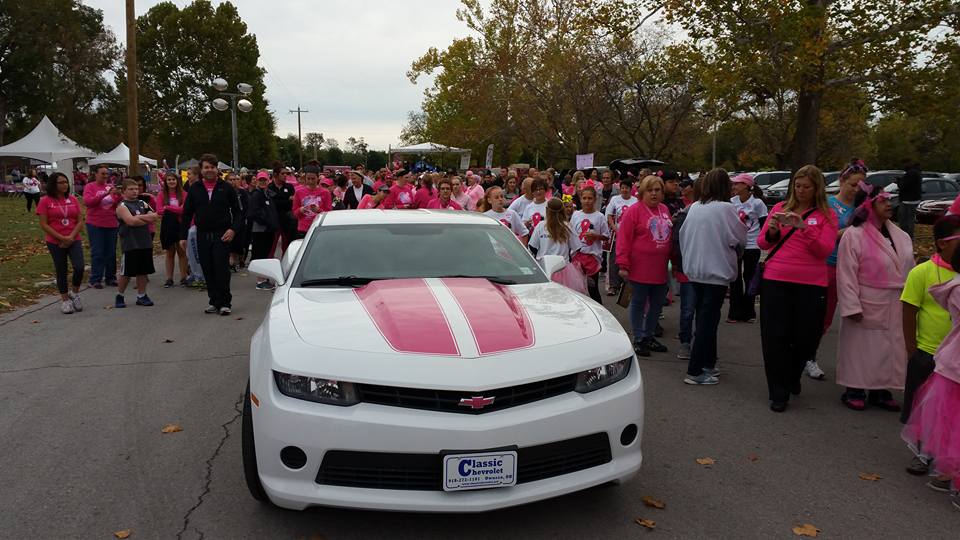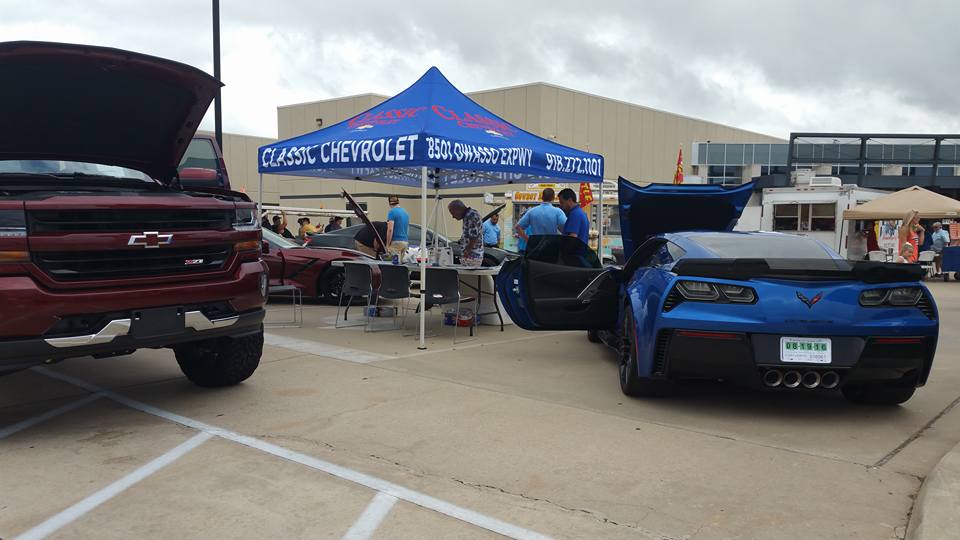 Everyone here at Classic Chevrolet are proud to be part of Owasso and the great state of Oklahoma, we encourage our staff to be involved in the community spirit. We will be adding events that we support and again we encourage your support at these events.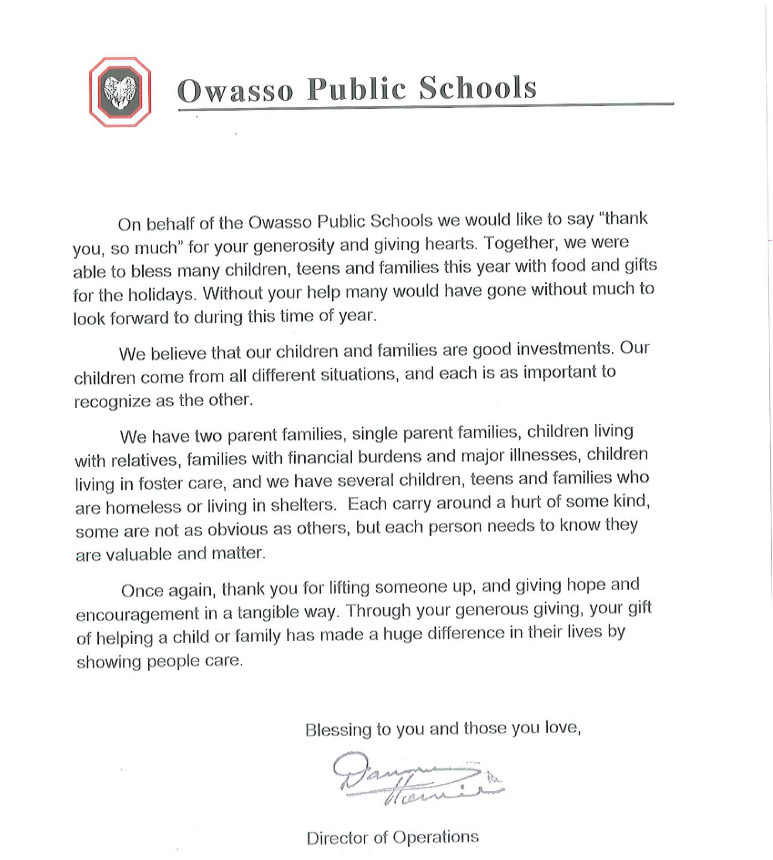 Classic Chevrolet is proud to announce our partnership with Owasso Public Schools Work Study Program. This innovative program creates learning opportunities within the community for students with disabilities. A warm welcome to our newest team members: Andrew Stephens, Nathan Mitcham and Ceira Dale. Classic Chevrolet believes in family, service, and you! Come visit with our new team members and watch them at work.
To Classic Chevrolet's Management and Employees,
On behalf of our students participating in the Work Study Program at Owasso High School, we would like to thank Classic Chevrolet for the warm support of their management and staff.
One of our student's biggest moments was receiving Classic Chevrolet shirts and representing Classic Chevrolet at the Owasso Transition Fair. The fair is presented every year as a community service open to all individuals interested in people with special needs. Each student gave a short presentation on how working at Classic Chevrolet is helping them become viable employees, as they prepare to graduate and enter the workplace. Our students spoke of the skills and knowledge they have acquired at Classic Chevrolet and the support they have received from the staff.
Lives have been forever changed by our warm-hearted friends at Classic Chevrolet!
Again, thank you!
As the students say "You Rock!"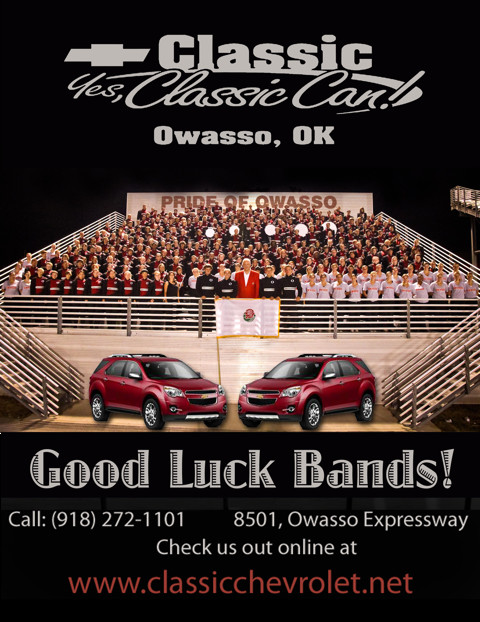 We are excited to be involved with Owasso High school and the Football team

North East Elementry

Check out the local Owasso HS Baseball

The Tulsa Better Business Bureau

The Owasso Chamber of Commerce

Owasso Basketball Booster

Owasso HS Band

Owasso Band Patrons

Sperry High School

Skiatook Round-Up Club

Akdar Shrine Circus

Owasso Softball Booster

Miss Oklahoma Pageant

Owasso Round-Up Club

Collinsville High School Booster

BDC Hours
918-272-1101
| | |
| --- | --- |
| Monday | 8:00 am - 7:00 pm |
| Tuesday | 8:00 am - 7:00 pm |
| Wednesday | 8:00 am - 7:00 pm |
| Thursday | 8:00 am - 7:00 pm |
| Friday | 8:00 am - 7:00 pm |
| Saturday | 8:00 am - 7:00 pm |
| Sunday | Closed |
Sales Hours
877-356-6289
| | |
| --- | --- |
| Monday | 8:00 am - 9:00 pm |
| Tuesday | 8:00 am - 9:00 pm |
| Wednesday | 8:00 am - 9:00 pm |
| Thursday | 8:00 am - 9:00 pm |
| Friday | 8:00 am - 9:00 pm |
| Saturday | 8:00 am - 9:00 pm |
| Sunday | Closed |
Service Hours
877-365-7124
| | |
| --- | --- |
| Monday | 7:00 am - 6:00 pm |
| Tuesday | 7:00 am - 6:00 pm |
| Wednesday | 7:00 am - 6:00 pm |
| Thursday | 7:00 am - 6:00 pm |
| Friday | 7:00 am - 6:00 pm |
| Saturday | 8:00 am - 1:00 pm |
| Sunday | Closed |
Parts Hours
877-365-7124
| | |
| --- | --- |
| Monday | 7:00 am - 6:00 pm |
| Tuesday | 7:00 am - 6:00 pm |
| Wednesday | 7:00 am - 6:00 pm |
| Thursday | 7:00 am - 6:00 pm |
| Friday | 7:00 am - 6:00 pm |
| Saturday | 8:00 am - 1:00 pm |
| Sunday | Closed |